Hall of Famer
Diane Jones Konihowski
Inducted in 2020-21
Member Details
Date of Birth: March 7, 1951
Place of Birth: Vancouver, British Columbia
Sport: Athletics
Member Category: Athlete
Career Highlights
1975, 1979
Gold Medal in Pentathlon at the Pan American Games
1978
Gold Medal in Pentathlon at the Commonwealth Games

Received the Bobbie Rosenfeld Trophy for Female Athlete of the Year

Received the Velma Springstead Trophy as Canada's Outstanding Female Athlete

Named to the Order of Canada
1980
Inducted into the Saskatchewan Sports Hall of Fame
1996
Inducted into the Canadian Olympic Hall of Fame
2000
Chef de Mission of the Canadian Olympic Team
2002
Inducted into the Alberta Sports Hall of Fame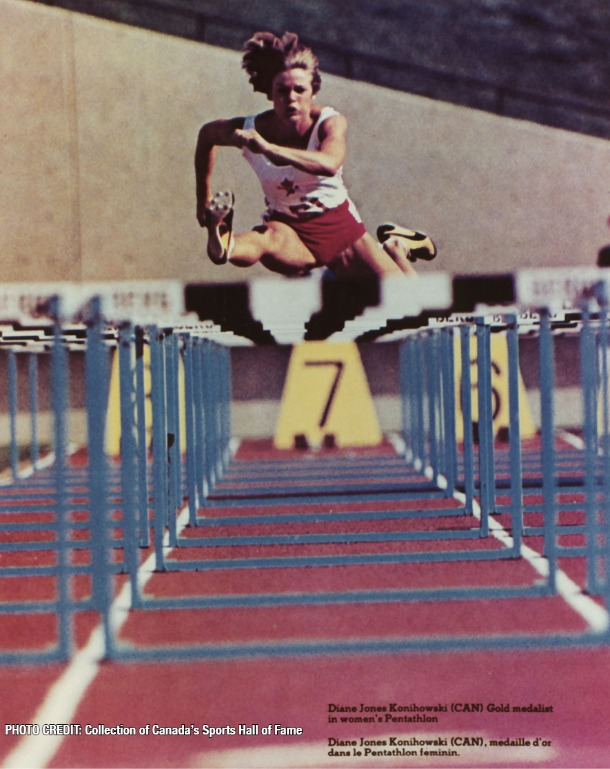 Story
Diane Jones Konihowski has left a lasting mark on Canadian sport for over 45 years as an athlete, coach, volunteer, administrator and journalist. Diane honed her athletic abilities in track and field while attending the University of Saskatchewan and went on to find international success in pentathlon. Diane won her first international medal in 1969, capturing bronze at the Pacific Conference Games in high jump. She went on to represent Canada at the 1972 Olympic Games in Munich, placing tenth in the pentathlon. She captured the bronze medal at the 1973 University Games in Moscow, Russia. On home soil at the 1976 Olympic Games in Montreal, Diane placed 6th in pentathlon and 11th in long jump. She became an international champion after capturing gold medals in the pentathlon at the Pan American Games in 1975 and 1979, and a gold medal at the 1978 Commonwealth Games in Edmonton, setting Canadian records and ranking her number one in the world.

Diane's achievements made her one of the most successful young Canadian athletes of her generation, inspiring an outpouring of awards and numerous Hall of Fame honours. In 1978 she was awarded the Bobbi Rosenfeld Trophy as Canadian Female Athlete of the Year, as well as the Velma Springstead Trophy as Canada's Outstanding Female Athlete. That same year she was named to the Order of Canada. Considered a top medal contender for the 1980 Olympic Games in Moscow, she was denied the opportunity to stand on the podium when Canada joined an international boycott to protest Soviet military action in Afghanistan. Disappointed but determined to not let 16 years of training and competition go to waste, she won the Liberty Bell Classic in Philadelphia, dubbed the 'Alternative Olympics', and two weeks after the 1980 Olympic Games, Diane won gold in pentathlon while competing in Germany against the three medalists from Moscow.

Diane's achievements afforded her the expertise and confidence to help other high-performance athletes achieve their dreams. Settling in Calgary, in 1985 Diane was appointed Director of the Alberta Olympic Game Plan with the Alberta Sport Council, mandated to increase the number of provincial athletes on the 1988 Canadian Olympic Team. At the national level, she became Director of Marketing for Canada's first National Sport Centre in 1994. In 2000, she served as Chef de Mission with the Canadian Olympic Team in Sydney, Australia. From 1986 to 2010, she was a Director on a variety of national Boards - Coaching Association of Canada, Canadian Centre for Drug Free Sport, KidSport Canada, and the Canadian Olympic Committee. She was Chair of Fair Play Canada and the Petro-Canada Olympic Torch Scholarship Fund for a number of years. Never content to rest on her laurels, Diane has also contributed to many community service initiatives. In 2010, she was named CEO of KidSport Canada, a program that helps young people overcome financial barriers so they can play a season of sport. She also developed the Youth Education through Sport program (Y.E.S.), which trains athletes to serve as role models and motivational speakers in Alberta schools. She has received Honorary Doctorate of Laws Degrees from the Brock University and the University of Saskatchewan. Currently, she serves as Director of Fund Development and Communications for Distress Centre Calgary, an organization that provides Calgary only 24-hour crisis support.