Hall of Famer
HUGH FISHER
Inducted in 2000
Member Details
Date of Birth: November 1, 1955
Place of Birth: Hamilton, New Zealand
Sport: Canoe / Kayak Sprint
Member Category: Athlete
Career Highlights
Won seven national K-2, four K-4, and one C-4 titles
Won numerous international kayaking titles at regattas in Zaandam, Vichy, Poland, Tata, Moscow and Brandenburg.
1976, 1984, 1988
Member, Canadian Olympic Canoeing Team
1977, 1979, 1982, 19
Member, Canadian World Championship Team
1982
World Championship - Silver medal in the K-2 1,000m (with Alwyn Morris)
1983
World Championships - Bronze medal in the K-2 550m (with Alwyn Morris)
1984
Los Angeles Olympic Games - Gold medal in K-2 1,000m and Bronze medal in K-2 500m (with Alwyn Morris)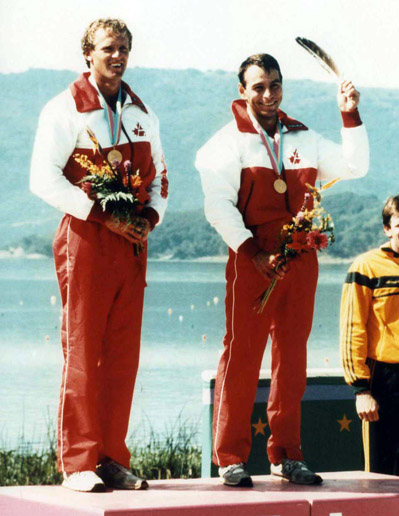 Story
Some say that Hugh Fisher and Alwyn Morris put their lives on hold in order to pursue their sport. In their six years as teammates, these paddling champions not only worked around injury and sickness but put off schooling and careers in order to reach the Olympic podium. To them, paddling was not merely an activity to fill in the cracks along the road of life; it was their lives, and, in fulfilling their dreams, they were truly living their lives to the fullest. Alwyn Morris, a full-blooded Mohawk, grew up on the Kahnawake reserve in Quebec. After being told that he was too small to play lacrosse, the teenaged Morris turned his talents toward paddling. By 1977, he was the national junior champion in the K-1 500m and 1,000m events. He continued to dominate single kayak events in Canada and around the world, winning six national titles and additional victories at regattas in Zaandam and Moscow. Hugh Fisher was born in New Zealand but raised in Vancouver. He began racing canoes and kayaks at the Burnaby Canoe Club in 1970 and was on the Olympic team by 1976. After placing tenth in the K-4 1,000m event, Fisher trained extensively in Europe as well as in Canada with hopes of reaching the podium at the following Olympics. When the Canadian government boycotted the 1980 Games in Moscow, however, Fisher was left without a world-class competition. With increased determination, he set his sights on the 1984 Olympics and began to train even harder. When the two paddlers met in 1980, they seemed destined for greatness on the water. Fisher, however, developed tendonitis of the wrist and was forced to sit out most of the 1981 season. In the meantime, Morris teamed up with Fisher's former partner, Denis Barre. The two were so successful that Fisher almost gave up on the idea of returning to the sport. He finished his bachelor's degree and prepared to go to medical school. Fate stepped in, however, in the spring of 1982. Barre was injured and Fisher was called in to replace him as Morris's partner. The two paddlers began a rigourous training program in Europe and were instantly successful. They claimed a silver medal at the 1982 World Championships and a bronze medal the following year. On a pre-Olympic tour in 1984, they placed second in the K-2 1,000m and fourth in the K-2 500m events at the Moscow Regatta then went on to place second in the K-2 500m and third in the K-2 1,000m events at the Brandenburg Regatta. The pair reached the pinnacle of their paddling careers at the 1984 Olympic Games. They won a gold medal in the K-2 1,000m and a bronze medal in the K-2 500m events. In what was one of the most memorable moments in Canadian Olympic history, Morris stood on the podium and held up an eagle feather as a proud tribute to his aboriginal ancestry. Following the Games, Fisher returned to medical school, while Morris was appointed Ambassador of Youth in Canada. They qualified once more for the 1988 Olympic team but were not able to replicate their 1984 success.