Hall of Famer
Sheldon Kennedy
Inducted in 2020-21
Member Details
Date of Birth: June 15, 1969
Place of Birth: Brandon, Manitoba
Sport: Ice Hockey
Member Category: Builder
Career Highlights
1998
8000 km in-line skate across Canada raising over $1.2M and increasing awareness for childhood safety
2004
Co-founder of Respect Group Inc.
2013
Sheldon Kennedy Child Advocacy Centre opened in Calgary, AB
2015
Named to the Order of Canada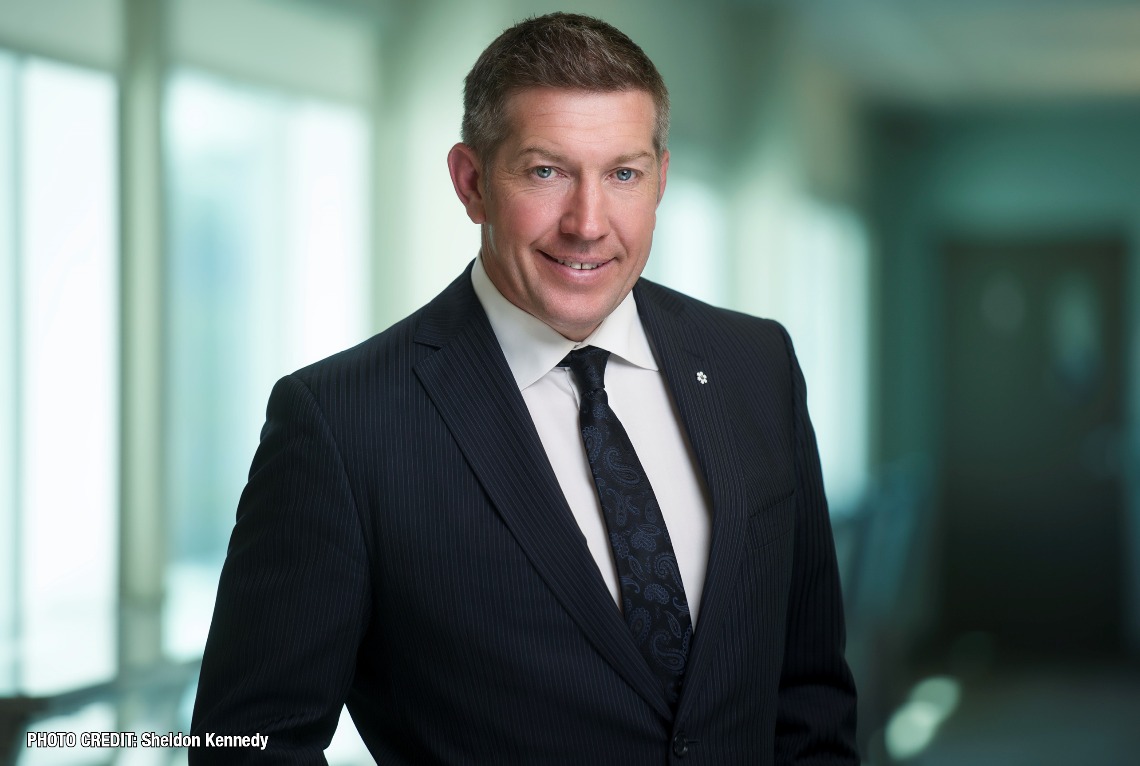 Story
Growing up in small town Manitoba, Sheldon Kennedy dreamed of broadening his horizons and playing hockey professionally one day. His dedication and hard work as a young athlete carried him to a Gold Medal performance at the World Juniors in 1988, and in 1989 he was named captain of the Swift Current Broncos, leading the team to win the Memorial Cup. Drafted into the National Hockey League (NHL), for the next eight years Sheldon played for the Detroit Red Wings, Calgary Flames and Boston Bruins. Outwardly as his career caught fire, Sheldon was secure in his achievements as a professional athlete. Below the surface remained a painful personal truth that demanded to be heard.

In 1996, Sheldon Kennedy made the difficult decision to publicly charge his former Junior Hockey coach with sexual assault, after years of privately struggling with emotional and psychological distress. It was a courageous act, disclosing over five years of recurrent abuse that began when he was 14 years old. Following his former coach's conviction, Sheldon's charge grew into an urgent nationwide call to action, improving child safety in sports, schools, and youth organizations across Canada. For over two decades, he has directed many critically important initiatives to protect vulnerable youth, notably working with Hockey Canada to develop the "Speak Out" program (now called Respect in Sport), establishing mandatory training for coaches to prevent bullying, abuse and discrimination. Reaffirming his personal commitment to child safety, Sheldon also undertook an 8000 kilometre in-line skate across Canada in 1998 to raise funds and public awareness. Stopping to speak in small communities and hockey arenas across Canada, his journey received extensive media coverage and raised over 1.2 million dollars for Canadian Red Cross abuse prevention programs.

In 2004, Sheldon Kennedy co-founded the Respect Group, a company that works with schools, sports organizations and workplaces to prevent abuse, bullying, and discrimination. In 2010, he began working with the Calgary Chief of Police and other child protection agencies to establish the Calgary Child Advocacy Centre. The first of its kind, the Centre continues to offer multi-jurisdictional service encompassing health and social service agencies, police services and the justice system. This innovative 'integrated practice model' supports victims of child abuse and their families by ensuring they don't become overwhelmed or discouraged as they seek protection and navigate the justice system. Sheldon has also worked with the International Olympic Committee to develop the Safeguarding Athletes program, as well as the National Hockey League Players Association (NHLPA) substance abuse program, providing confidential support to other survivors of childhood abuse. For over twenty years, his legacy of compassionate advocacy has profoundly changed the culture of sport across Canada, ensuring the protection of children remains a shared priority for future generations of parents, coaches and administrators.