Hall of Famer
DWAYNE DE ROSARIO
Inducted in 2022
Member Details
Date of Birth: May 15, 1978
Place of Birth: Toronto, Ontario
Sport: Soccer
Member Category: Athlete
Career Highlights
2001, 2003, 2006, 2007
Major League Soccer Champion
2001, 2007
Major League Soccer Cup Most Valuable Player
2005, 2006, 2007, 2009, 2010, 2011
Named as one of Major League Soccer's Best XI (11 athletes)
2005, 2006, 2007, 2011
Canadian Player of the Year
2006
2011
Became the only Canadian ever to win the MLS Golden Boot as the league's top scorer.
2019
Inducted into Ontario Sports Hall of Fame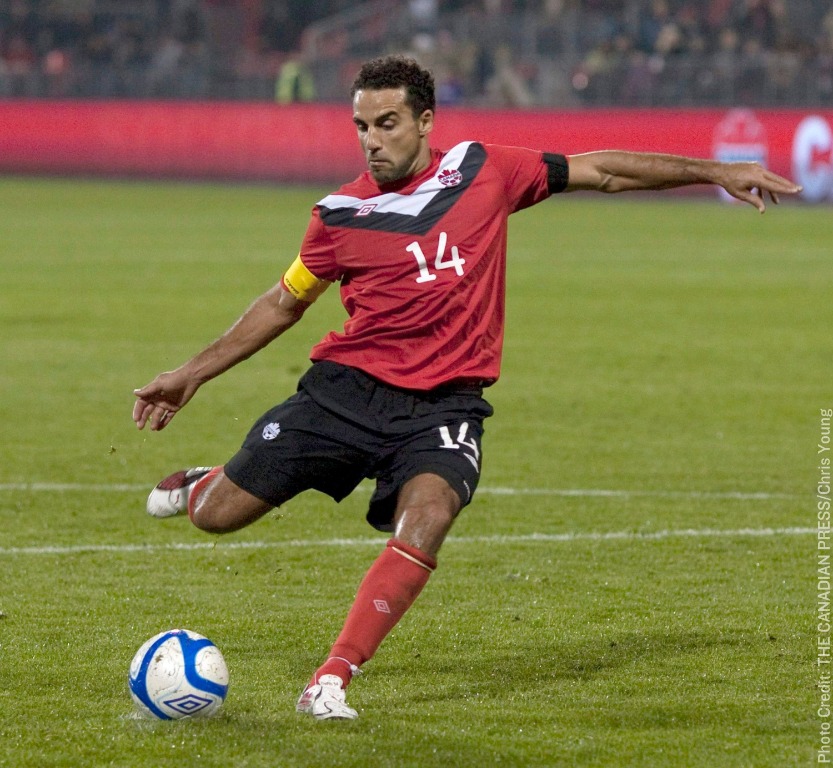 Story
From the moment he stepped into the spotlight as a homegrown soccer superstar, Dwayne De Rosario's storied career has sparked unprecedented growth in the beautiful game all across Canada. Dwayne's parents had recently immigrated to Canada from Guyana when he was born in the Toronto suburb of Scarborough, Ontario in 1978. Embracing soccer's global popularity, they encouraged him to take up the sport at a young age. By the time he was 14, Dwayne was already receiving offers to play in Europe, having developed an exceptional talent as a versatile, attacking forward/midfielder that set him apart on the pitch. In 2001 he embarked on a legendary Major League Soccer (MLS) career, playing for five different teams over 14 years and amassing an incredible highlight reel of achievements along the way.

Affectionately dubbed "DeRo" by teammates and fans, Dwayne De Rosario retired in 2015 a four-time MLS champion, and seven-time MLS All-Star. He remains the ninth all-time leading goal scorer in MLS history, with 109 league goals and 82 assists over 367 games. Dwayne was named MLS Cup Most Valuable Player (MVP) in 2001 and 2007, MLS All-Star game MVP in 2006, and won MLS goal of the year two consecutive years in 2004 and 2005. Named six times to the MLS Best XI, he is considered one of the league's 25 greatest players of all time. By the time he retired, Dwayne had also set new records with his hometown Toronto Football Club (TFC), leaving as the team's leader in goals, assists, shots, shots on goal, game-winning goals and multi-goal games. Complementing these towering professional achievements, Dwayne made history with Canada's national team between 1998 and 2015, topping the list of all-time Canadian goal scorers at the time with 22 goals in 81 caps. In 2011 Dwayne was named MLS MVP and became the only Canadian ever to win the Golden Boot as the league's top scorer. A four-time Canadian player of the year, he was also named to the Centennial All Time Men's Best XI by the Canadian Soccer Association in 2012.

Overcoming overt racial discrimination early in his career while playing for German side FSV Zwickau, Dwayne De Rosario also routinely confronted issues related to fair treatment and compensation for professional soccer players in Canada, using adversity to fuel his passion on the pitch. As one of the first non-white Canadian stars of the game, his remarkable achievements left soccer north of the 49th parallel much more diverse, inclusive and dynamic than he had found it as a young athlete. These stories are revealed in his biography "DeRo My Life". Since retiring, Dwayne continues to reach out to young people as a TFC community ambassador and through the DeRo Foundation, established in 2014 to help youth in underserved neighbourhoods fulfil their potential in after-school programs. In recognition of his achievements on and off the pitch, Dwayne was appointed to the Order of Ontario in 2020. With Canada poised to co-host the World Cup in 2026, grassroots support for soccer has grown exponentially across the country, reaching thrilling new heights thanks in part to the inspiring trail Dwayne De Rosario blazed.