Hall of Famer
ADAM VAN KOEVERDEN
Inducted in 2022
Member Details
Date of Birth: January 29, 1982
Place of Birth: Toronto, Ontario
Sport: Canoe / Kayak Sprint
Member Category: Athlete
Career Highlights
1997
Bronze Medal K1-1000m at the Canada Games
1999
Bronze Medal K1-1000m at the World Junior Championships
2003
Silver Medal K1-1000m at the ICF Canoe Sprint World Championships
2004
Gold Medal K1-500m Athens Olympic Games, Bronze Medal K1-1000m Athens Olympic Games, Received the North Star Award (formerly Lou Marsh Memorial Award) as Canada's Outstanding Athlete of the Year
2008
Silver Medal K1-500m Beijing Olympic Games
2012
Silver Medal K1-1000m London Olympic Games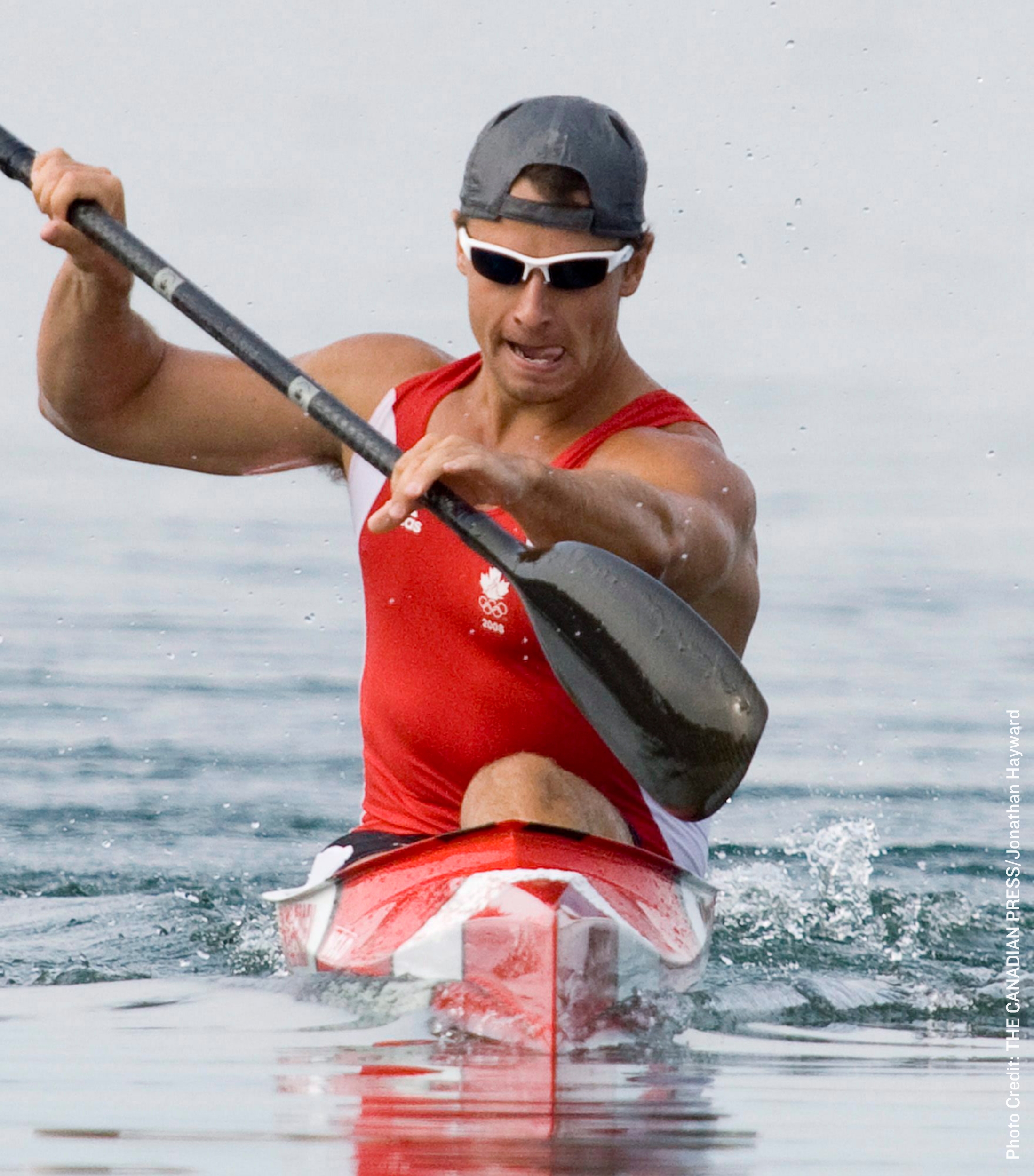 Story
Before Adam van Koeverden left his indelible mark on Canadian sport history, he undertook a transformative journey as a young athlete that taught him the power of compassion and community support to change lives and build future champions. Growing up in co-operative housing in North Oakville, Ontario, Adam joined the local Burloak Canoe Club at the urging of his mother, who hoped taking up a new sport would give her teenage son a sense of direction. It was a life-changing insight, as Adam discovered a passion for sprint paddling and began training diligently to master the physical skills required to excel in canoe/kayak sprint racing, where an athlete's body must be perfectly attuned to the vessel they compete in. At the age of 15 his hard work paid off with a Bronze medal in the K-1 1000m race at the 1997 Canada Games, followed by Bronze in the K-1 1000m at the Junior World Championships in 1999. In 2003 Adam claimed his first senior world championship medal, winning Silver in the K-1 1000m at the ICF Canoe Sprint World Championships, and immediately began charting a course towards Olympic competition.

Adam blazed a bright path to the top of the podium at the 2004 Olympic Games in Athens, winning a Gold medal in men's K-1 500m and Bronze in the K-1 1000m. The first Canadian male athlete to claim a medal in either event, Adam was also the first Canadian in 20 years to win Gold in canoe/kayak sprint sports at the Olympic Games, and the first Canadian since 1996 to become a double medallist at the Olympic Games. Adam received the 2004 Lou Marsh Memorial Award as Canada's Outstanding Athlete of the Year and went on to serve as Canada's Opening Ceremonies flag bearer at the 2008 Olympic Games in Beijing. He claimed Silver in the K-1 500m race at the 2008 Olympic Games, followed by another Silver medal performance in the K-1 1000m at the 2012 Olympic Games in London. Adam's historic Olympic triumphs are complemented by his striking record of sustained excellence in international competition, including 21 World Cup Gold medals, two World Championship titles and a Bronze medal at the 2015 Pan American Games.

A generational role model for Canadian sprint paddlers, Adam Van Koeverden has dedicated himself, since retiring from competition, to paying forward the life-changing support he received as a young athlete, serving as an ambassador for numerous community-focused charities including WaterAID, Special Olympics, and Right to Play. He has also worked to effect positive change in amateur sport, serving as Chair of the Canadian Olympic Committee's Athletes' Commission and becoming a member of the Federal Government's Working Group on Gender Equity in Sport. In 2019 Adam was elected MP for the Ontario riding of Milton and continues to serve Canadians as Parliamentary Secretary to the Minister of Health and the Minister of Sport, while remaining a passionate advocate for ending poverty, finding solutions for affordable housing and fighting climate change.