Hall of Famer
TIM MCISAAC
Inducted in 2022
Member Details
Date of Birth: January 10, 1959
Place of Birth: Winnipeg, Manitoba
Sport: Para Swimming
Member Category: Athlete
Career Highlights
1976
One Gold, two Silver and two Bronze medals - Toronto Paralympic Games
1980
Four Gold, one Silver, and two Bronze medals – Arnhem Paralympic Games
1982
Named Manitoba's Male Athlete of the Year
1984
Four Gold, and three Silver medals – New York Paralympic Games
1988
Six Gold and three Bronze medals – Seoul Paralympic Games
2000
Inducted into Manitoba's Sports Hall of Fame
2012
Inducted into Swim Canada's Circle of Excellence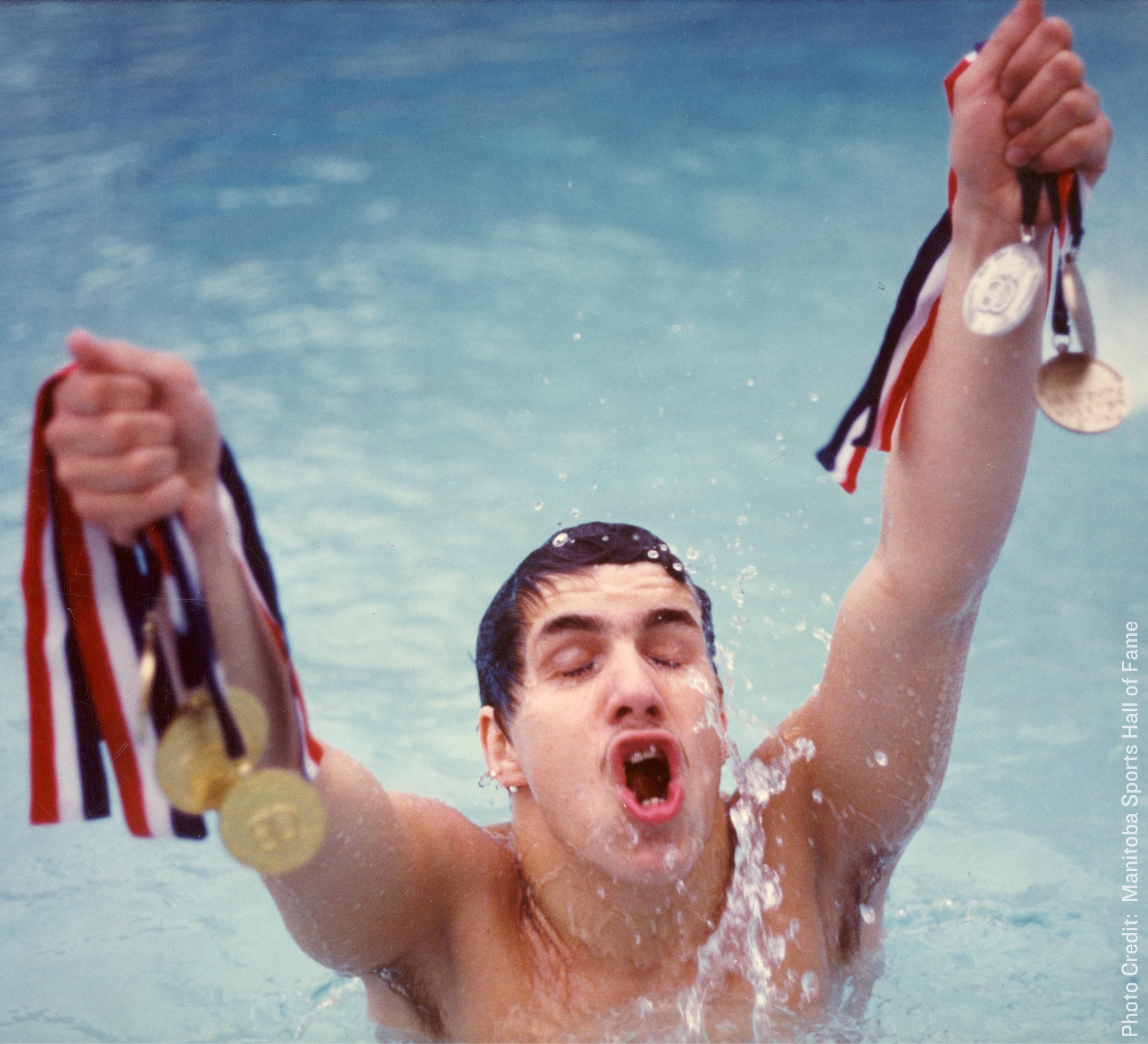 Story
A Paralympic pioneer who revolutionized para-swimming in Canada and around the world, Tim McIsaac was born in Winnipeg, Manitoba in 1959. Blind since birth, he began swimming recreationally at the age of 13 while attending the Ross MacDonald School for the Blind in Brantford, Ontario, discovering a natural aptitude for the sport. After being hit by a car while walking with a friend and fracturing both legs, swimming gave Tim the opportunity to stay active at school while rehabilitating his injuries, and he began to dream of breaking into the world of high-level competition. Determined to find creative solutions to the barriers he faced as a visually impaired athlete, Tim became the first blind swimmer in the world to use a tumble turn after devising a new system where his coaches, Wilf and Audrey Strom would tap him on the head or arm with a foam-tipped rod when he neared the wall of the pool. Now compulsory in competition, this innovative method has enabled generations of para-swimmers to train more effectively and optimize their competitive performance.

Tim made an unforgettable splash at his first major competition in Canada, winning 5 Gold medals at the 1975 Ontario Games for the Physically Disabled. Between 1975 and 1989, he claimed 19 Gold medals at two Canadian Games, 28 Gold at four Canada Summer Nationals, and 10 Gold at two Canadian Paralympic trials. Tim was the first male swimmer to hold Canadian records when swimming events for blind athletes were added to the Paralympic Games program in the mid 1970s. He represented Canada at four Paralympic Games between 1976 and 1988, winning an outstanding total of 28 medals (14 Gold, 7 Silver and 7 Bronze). In 1976 Tim received the Viscount Alexander Award as Junior Male Athlete of the Year, and in 1982 he was named Manitoba's Male Athlete of the Year. Recognizing the enduring importance of his innovative methods for visually impaired swimmers alongside his own record of competitive excellence, in 2012 Tim was inducted into Swim Canada's Circle of Excellence.

After retiring from competition in 1992, Tim McIsaac has continued to participate in Masters swimming events and triathlons, raising funds for cancer research and boosting awareness for visually impaired athletes. Blazing another new trail Tim graduated from the University of Winnipeg with a Bachelor of Education, and also enjoys a stimulating and challenging career with the Government of Manitoba. A true champion for inclusion and equality, he has served in critically important leadership and advisory roles in areas such as community health, philanthropy and community development.