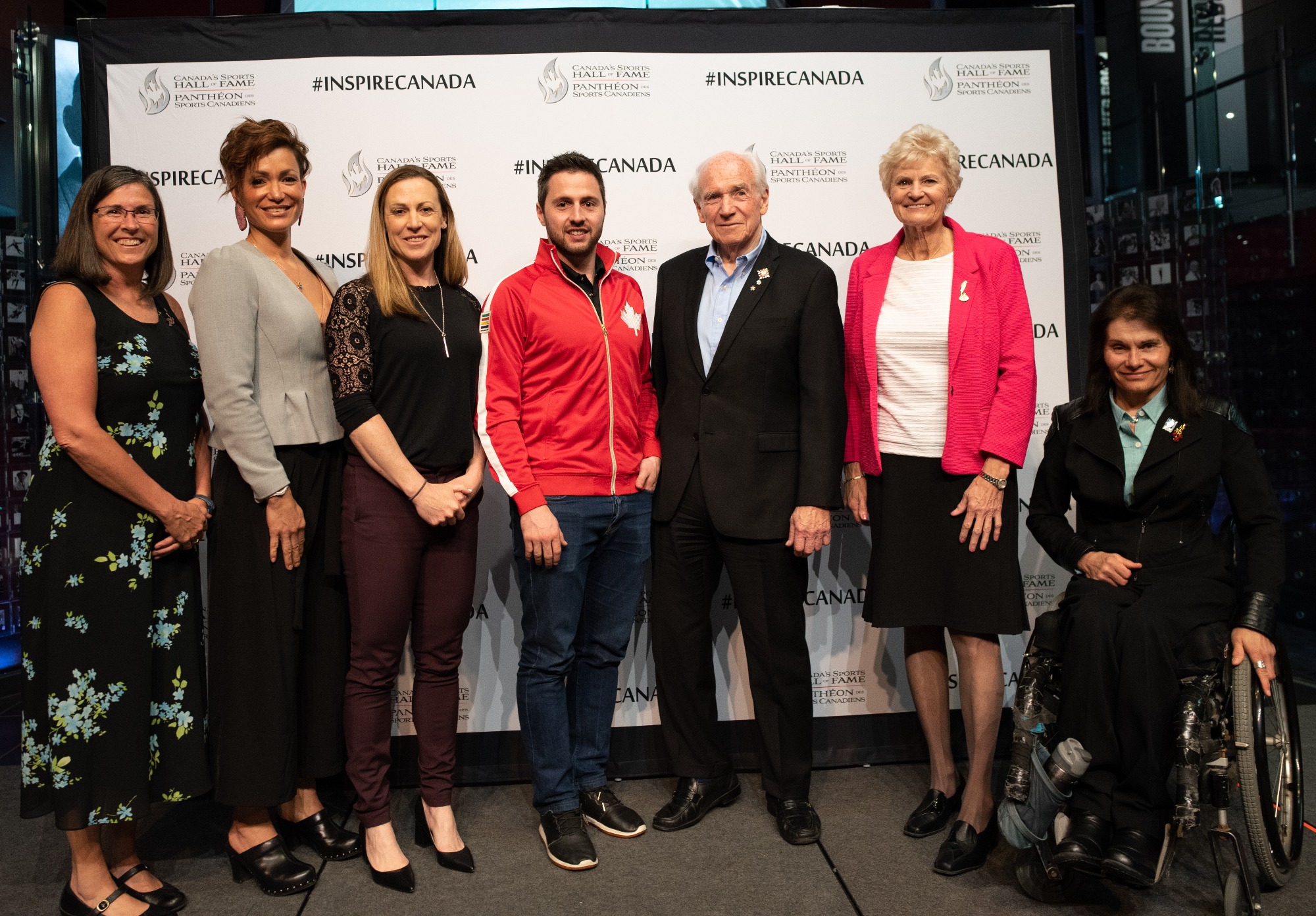 Introducing the Class of 2019
May 23rd, 2019
Canada's Sports Hall of Fame announces the 2019 Hall of Fame Inductees
Calgary, May 23, 2019 – Canada's Sports Hall of Fame revealed eight Canadian champions who will be inducted into Canada's Sports Hall of Fame this Fall. The six Athletes and two "Builders" will be awarded the country's highest sporting honour for their sports accomplishments and, beyond the win, their contribution to building Canada through sport. These individuals represent Indigenous, National, Olympic and Paralympic competitive sport and community spirit in Canada. Chosen from over 260 public nominations, and selected by jury for their ability to lead and inspire both on and off the field of play, using sport as a platform to build a better country for their fellow athletes and all Canadians.
"We are pleased to announce that these eight Canadian Champions will join the 665 members of Canada's Sports Hall of Fame in our 64th year. Each has, in their own way, broken down barriers, blazed new trails, and served as proud international ambassadors for Canadian values. This group reflects well on Canada, our rich sporting history and the future of sport and spirit." said Cheryl Bernard, President and CEO, Canada's Sports Hall of Fame.
Canada's Sports Hall of Fame Class of 2019 Inductees are:
Alexandre Bilodeau – Athlete, Freestyle Skiing - The first Canadian athlete ever to win an Olympic Gold Medal on home soil at the 2010 Olympic Winter Games in Vancouver. Alex Bilodeau became the first freestyler skier to win two consecutive Olympic Gold Medals with his Gold Medal repeat performance in 2014.

Colette Bourgonje – Athlete, Para Nordic Skiing and Para-Athletics - Para Nordic Skiing and Wheelchair Racing ten-time Paralympian, Colette Bourgonje is the only Canadian female athlete to compete in both Summer and Winter Paralympic Games, and the first to medal in dual events.

Martin Brodeur – Athlete, Ice Hockey - Martin Brodeur transformed goaltending with his unique hybrid style of play, winning three Stanley Cup Championships and claiming the Vezina Trophy four times as the League's best goaltender.

Jayna Hefford – Athlete, Ice Hockey - Twelve-time World Women's Championship Medallist and five-time Olympic Medallist, Jayna Hefford raised the bar for women's hockey in Canada at a time when women's ice hockey was breaking new ground.

Waneek Horn-Miller – Athlete, Water Polo - After winning a Gold Medal at the Pan American Games and co-captaining the first Canadian women's water polo team in the Olympic Games, Waneek Horn-Miller remains an ambassador to empower Indigenous communities and youth through sport.

Vicki Keith – Athlete, Swimming - Crossing some of the most daunting bodies of water in the world, Vicki Keith set 16 world records and received over 41 awards and honours as a marathon swimmer.

Guylaine Bernier – Builder, Rowing - Guylaine Bernier helped make history as part of the groundbreaking Canadian women's rowing team at the 1976 Olympic Games and has been making waves as an athlete, official, coach, organizer and volunteer for over 45 years promoting gender equity, opportunities for young athletes and elite sport development.

Doug Mitchell – Builder, Multi Sport - Doug Mitchell founded the BLG Awards (now the Lieutenant Governor Athletic Awards), served as Commissioner of the Canadian Football League introducing a salary cap policy that stabilized the Leagues economic difficulties, has been inducted into numerous Sport Halls of Fame and in 2004 Doug Mitchell was invested into the Order of Canada, honouring the exceptional generosity and visionary leadership that have shaped his outstanding contributions to Canadian sport.
The 2019 Induction Festival and Formal program takes place on Wednesday, October 23, 2019, in Toronto. Please visit sportshall.ca for more information.