Hall of Famer
Jayna Hefford
Inducted in 2019
Member Details
Date of Birth: May 14, 1977
Place of Birth: Trenton, Ontario
Sport: Ice Hockey
Member Category: Athlete
Career Highlights
1998
Silver Medal in Ice Hockey at the Olympic Winter Games in Nagano
2002
Gold Medal in Ice Hockey at the Olympic Winter Games in Salt Lake
2006
Gold Medal in Ice Hockey at the Olympic Winter Games in Torino
2010
Gold Medal in Ice Hockey at the Olympic Winter Games in Vancouver
2014
Gold Medal in Ice Hockey at the Olympic Winter Games in Sochi
2016
Canadian Women's Hockey League established the Jayna Hefford Trophy honouring their most outstanding athlete
2018
Inducted into the Hockey Hall of Fame
2019
Recipient of the Order of Hockey in Canada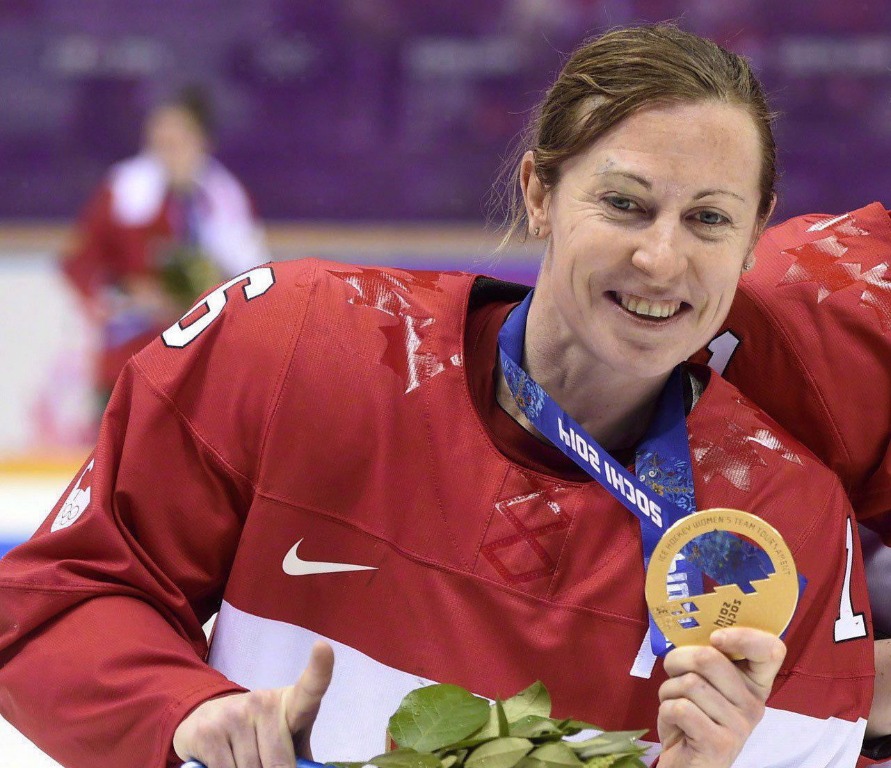 Story
A pioneering superstar, Jayna Hefford's breakaway achievements have raised the profile of women's hockey in Canada and around the world. Growing up in a hockey family in Kingston, Ontario, Jayna learned to skate when she was six years old. Natural ability set her apart as a young player in the 1980's, and she dreamed of one day playing in the National Hockey League, never considering gender a barrier. Her passion for the game grew alongside expanding competitive opportunities in women's hockey. Watching the first Women's World Hockey Championship on television in 1990, Jayna immediately knew she wanted to represent Canada on the international stage one day. She took a step towards achieving this dream in 1994, claiming a Gold medal representing Ontario in Canada's first national women's under-18 tournament.
While attending the University of Toronto, Jayna played with the Lady Blues, becoming the Ontario Women's Interuniversity Athletic Association's (OWIAA) top scorer and rookie of the year in 1997. The same year, she was invited to play for Canada at the International Ice Hockey Federation (IIHF) World Women's Championship. This was the first of twelve remarkable World Championship appearances, during which Jayna helped the Canadian team accumulate an outstanding total of seven Gold and five Silver medals. She also excelled as the tournament's leading scorer in 2000 and again in 2004, the same year she was named to the All-Star Team and received the Directorate Award as top forward, an honour she repeated in 2005.
Breaking new ground, 1998 marked the first year women competed in ice hockey at the Olympic Winter Games, and Jayna helped Canada claim a Silver medal in Nagano. Between 2002 and 2014, she was a veteran presence on Olympic ice, leading the Canadian women's team to four consecutive Gold medal victories. One of only five athletes ever to accomplish this feat in any discipline at the Olympic Winter Games, her defining moment as an Olympian came in 2002 when she scored the game-winning goal against the United States in Salt Lake City.
Over 18 seasons with the Canadian National Women's Team, Jayna scored 157 goals and 291 points over 267 games, second only to her teammate Hayley Wickenheiser. She also regularly led the scoring race in the Canadian Women's Hockey League (CWHL), and in 2016, the League established the Jayna Hefford Trophy honouring their most outstanding athlete, as voted by players. A reflection of genuine character and skill, Jayna's achievements transcended her spectacular array of championship victories, honours and statistics. Her humility, leadership, and commitment to teamwork made every victory a shared experience that elevated the sport for teammates and audiences alike. Retiring from competition in 2015, Jayna mentored the next generation as assistant coach of the women's hockey team at the University of Toronto for six years, and has been running her own hockey school for young girls in Kingston for over 20 years.