Hall of Famer
LUI PASSAGLIA
Inducted in 2011
Member Details
Date of Birth: June 7, 1954
Place of Birth: Vancouver, British Columbia
Sport: Football
Member Category: Athlete
Career Highlights
1985, 1994
winner, Dick Suderman Trophy
1985, 1994, 2000
Grey Cup Champion with BC Lions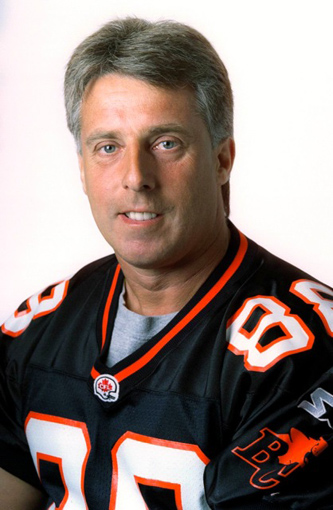 Story
Like goaltenders in hockey, field goal kickers in football are supposed to be a different breed. The difference with Lui Passaglia is his amazing consistency and longevity.
Passaglia spent 25 years in the CFL and finished his career with the BC Lions, the only professional team he ever played for, with a mindboggling 3,991 points. No football player in the history of the game has scored more points.
"Lou … Lou," as BC fans chanted long before Luongo, began his epic journey in football at Notre Dame Senior Secondary in Vancouver, with a team called the Jugglers. Passaglia was a good enough juggler to earn a scholarship to Simon Fraser University in Burnaby, where he was a standout kicker and wide receiver. When he was drafted fifth overall by the BC Lions in 1976 no one, but no one, could have guessed that #5 would be finally hanging up the cleats a quarter of a century later.
In his first game as a Lion, he caught a touchdown pass, so it was fitting that he would score on a one-yard run in his final game. Still, it was Passaglia's foot and leg that defined his career.
He punted the ball over three thousand times and became the unchallenged master of kicking in BC Place Stadium, where his length and accuracy was more-times-than-not a game saver for the Lions. He finished his kicking days with 875 field goals and a truly remarkable 90 per cent accuracy average. In one unforgettable season, Passaglia finished with 214 points. His consistent skill resulted in being named a CFL Western Division All-Star nine times, and a CFL All-Star four times.
Passaglia would win three Grey Cups with BC, starting in 1985 and finishing in 2000. The one in 1994 is the stuff of legends. The Lions were playing at home against the Baltimore Stallions. Baltimore was trying to take the Cup south of the border for the first time in history. In the dying moments of the game, Passaglia did the unthinkable and missed a field goal. With time running out, he got another shot. This time, the player who was so reliable throughout his entire career didn't miss and the Lions kept the Cup in Canada. For his winning ways, Passaglia took home the Dick Suderman Trophy as the Grey Cup's Most Valuable Canadian twice.
During his career, Passaglia worked tirelessly to promote the game and team he loved. After retirement in 2000, he continued working with the Lions as Director of Community Relations. Long after the cheering stopped, Lui Passaglia remains one of the most recognizable athletic names and personalities in BC thanks to his continued dedication to the game.
Always a different breed of player, Passaglia has made a difference to sport in his province and his country. As member of the BC Sports Hall of Fame, the Canadian Football Hall of Fame and now the Canada's Sports Hall of Fame, he is the epitome of dedication and longevity.
By Steve Armitage