Hall of Famer
KYLE SHEWFELT
Inducted in 2010
Member Details
Date of Birth: May 6, 1982
Place of Birth: Calgary, Alberta
Sport: Artistic Gymnastics
Member Category: Athlete
Career Highlights
2000, 04, 08
2004
Won gold medal in men's gymnastics floor exercise at Olympic Games in Athen's, Greece
Finished fourth in men's gymnastics horse vault at Olympic Games in Athen's Greece
2006
Won gold medal in men's gymnastics horse vault at Commonwealth Games in Melbourne, Australia
Won gold medal in men's gymnastics all-around at Commonwealth Games in Melbourne, Australia
Won bronze medal in men's gym
2008
Finished ninth in men's gymnastics horse vault at Olympic Games in Beijing, China
Finished ninth in men's gymnastics team event at Olympic Games in Beijing, China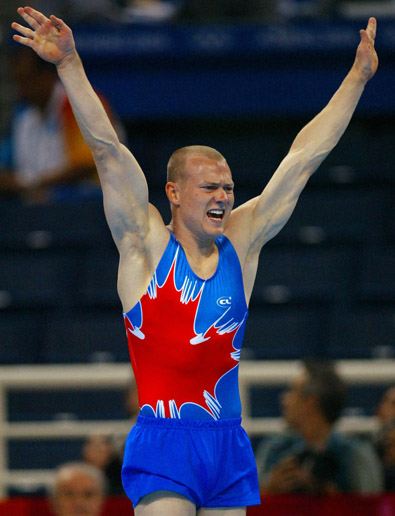 Story
Revered internationally for his strong and graceful blend of artistry and athleticism, Kyle Shewfelt's stirring gold medal performance in the floor exercise has become the international standard since the 2004 Olympics in Athens.
A defining performance for Kyle also became a transcendent moment in Canadian sport history blazing a trail for a new generation of gymnasts, fortifying the depth of the Canadian team in the years to come, and sending thousands of new kids tumbling into gyms across the Country.
During a training session at the 2007 World Championships in Stuttgart, Germany, Kyle suffered a devastating injury, breaking both of his legs just below the knees. Determined to contribute to his team's performance to qualify Canada for the Beijing Olympics, Kyle opted to stay in Germany to support his teammates from the sidelines for the entirety of the competition. They qualified.
Back in Calgary, Kyle embarked on the biggest comeback of his athletic career – overcoming two broken legs in just 11 months to compete for Canada at the 2008 Games. He qualified.
By overcoming seemingly insurmountable circumstances, Kyle's comeback story has inspired as many people as he did when he won the gold medal four years earlier.
After retiring from competition following the Beijing Games in 2008, Kyle has taken on new challenges off the mat including broadcasting, acting as an ambassador for Gymnastics Canada and being a student at Mount Royal University. He's also working on writing a book, opening a gymnastics club, and developing a concept for a television show entitled YouthCan.
Kyle continues to be an advocate for sport and gymnastics and looks forward to contributing to the development of Canada's next generation of sport heroes.