Hall of Famer
HAYLEY WICKENHEISER
Inducted in 2022
Member Details
Date of Birth: August 12, 1978
Place of Birth: Shaunavon, Saskatchewan
Sport: Ice Hockey
Member Category: Athlete
Career Highlights
1994, 1997, 1999, 2000, 2007, 2012
Gold Medal Women's World Hockey Championships
1998
Silver medal at the Olympic Winter Games
2000
Participant at Sydney Olympic Games as a member of the softball team
2002, 2006, 2010, 2014
Gold medal at the Olympic Winter Games
2005, 2013, 2016
Silver Medal Women's World Hockey Championships
2011
Invested into the Order of Canada
2014
Inducted into Canada's Walk of Fame
2019
Inducted into Hockey Hall of Fame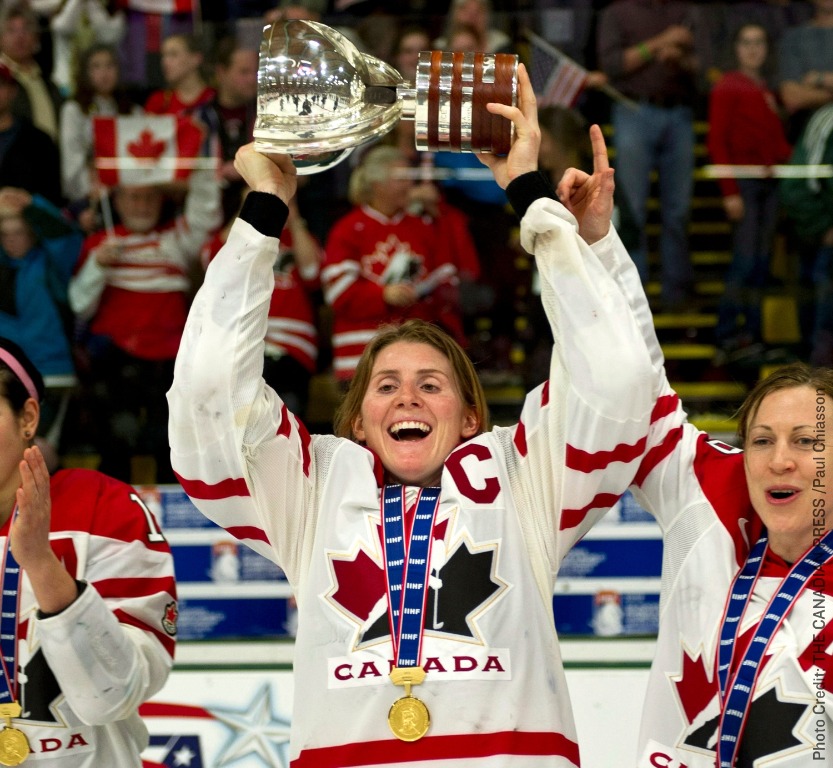 Story
Born in 1978 in Shaunavon, Saskatchewan, Hayley Wickenheiser grew up playing ice hockey on a backyard rink built by her father. With relatively few opportunities available for girls to compete in organized hockey leagues, Hayley played on boy's teams until she was 13 years old. Emerging as a power forward, in 1993 she joined the newly formed Canadian National Women's Hockey Team at the age of 15, becoming the youngest player on the squad. For over two decades Hayley proceeded to pour her heart and soul into every game, connecting with Canadians all across the country as she helped the National Team win seven Gold medals and six Silver medals at the IIHF Women's World Hockey Championship between 1993 and 2017. Known for her fierce competitiveness on the ice as well as her compassion and community spirit outside of the game, she quickly became one of the most recognizable and celebrated faces of ice hockey in Canada.

By the time Hayley Wickenheiser retired from competition in 2017, she was the longest-serving member of the National Women's Hockey Team, finishing her career with 379 points as Canada's All-Time leader in 168 international goals, and 211 assists over 276 games. Adding to her remarkable legacy, Hayley helped lead Team Canada to four Gold medals and one Silver in five appearances at the Olympic Winter Games between 1998 and 2014. She remains the All-Time leader with 18 goals, 33 assists, and 51 points in Women's Olympic Ice Hockey and was named MVP of these Games in 2002 and 2006. Hayley also competed in softball at the 2000 Olympic Games in Sydney, Australia, becoming only the second Canadian female athlete to take part in both the summer and winter Olympic Games. Rounding out her spectacular highlight reel, she broke new ground, playing in the Finnish Elite League, becoming the first woman to score a goal in a men's professional league in 2003.

Hayley Wickenheiser's unprecedented achievements helped usher in an era of exponential growth for women's ice hockey in Canada. In 2011 she was inducted into the Order of Canada, having proven beyond a doubt that women deserve equal opportunities to develop their skills and compete in sport at the highest level. Since graduating from the University of Calgary with a medical degree in 2021, Hayley has worked as a physician in a Toronto emergency hospital as well as Senior Director of Player Development for the Toronto Maple Leafs. At a grassroots level, she continues to promote inclusivity and accessibility for girls and youth in ice hockey through programs like KidSport, Right to Play, Project North, and Jumpstart, which helps cover the cost of registration, equipment and transportation for kids in underprivileged families. Hayley has also established several groundbreaking community initiatives of her own, including Stepping Out, an innovative exercise program for young adults with autism, and WickFest, an annual tournament that doubles as a powerful mentorship opportunity for female ice hockey players in Canada.