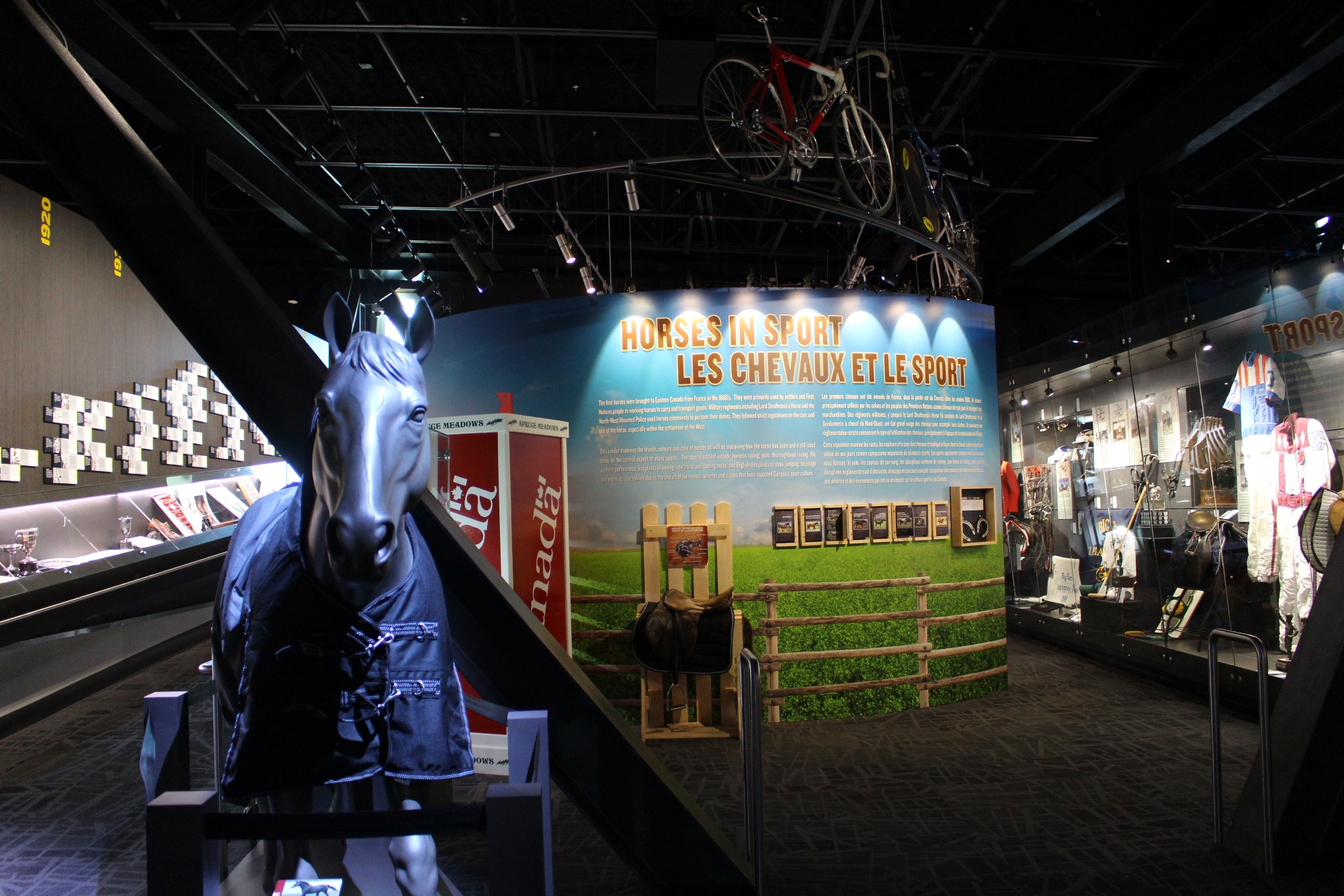 Les chevaux et le sport exposition
9/20/2017
Canada's Sports Hall of Fame officially unveils new Horses in Sport exhibit
Calgary – ­This morning, Canada's Sports Hall of Fame unveiled the new Horses in Sport exhibit with the help of several equestrian Honoured Members including; Spruce Meadows founder, Margaret Southern; Sandy Hawley, who competed in more than 6,000 races in his career as a jockey and was awarded horse racing's highest honours in both Canada and the U.S.; and Tom Gayford and Jim Elder, who won Canada's first Equestrian Olympic Gold medal in the Team event in Mexico City in 1968. John Simpson, Chairman, Owner, and CEO of CANA Group, who represented Canada in International Show Jumping from 1972-1982 was instrumental in this exhibit coming to fruition and spoke to the significance of it opening here in Calgary. Linda Southern-Heathcott, Spruce Meadows President and CEO along with 60 Grade five students from Monsignor E.L. Doyle School were also on-hand for the launch.
"We are proud to house this new exhibit for five years to honour the equine world which has and continues to play an instrumental role in shaping Canadian sport history," said Mario Siciliano, President and CEO of Canada's Sports Hall of Fame.
Located in the Mary Simpson Ride Gallery at Canada's Sports Hall of Fame, the Horses in Sport exhibit features ten horse-related sports, eight major national and international equestrian events, and celebrates the accomplishments of the twenty-six individuals and two horses previously inducted into Canada's Sports Hall of Fame for their contributions to the equine world. Artefacts on display include Tom Glass' chuckwagon from the 1930s that he used to win four Calgary Stampede Rangeland Derby Championships, a 35 million year old prehistoric horse skeleton, a full-size horse skeleton, and interactive displays featuring Margaret Southern and Ian Millar. The exhibit will be on display at Canada's Sports Hall of Fame for five years.