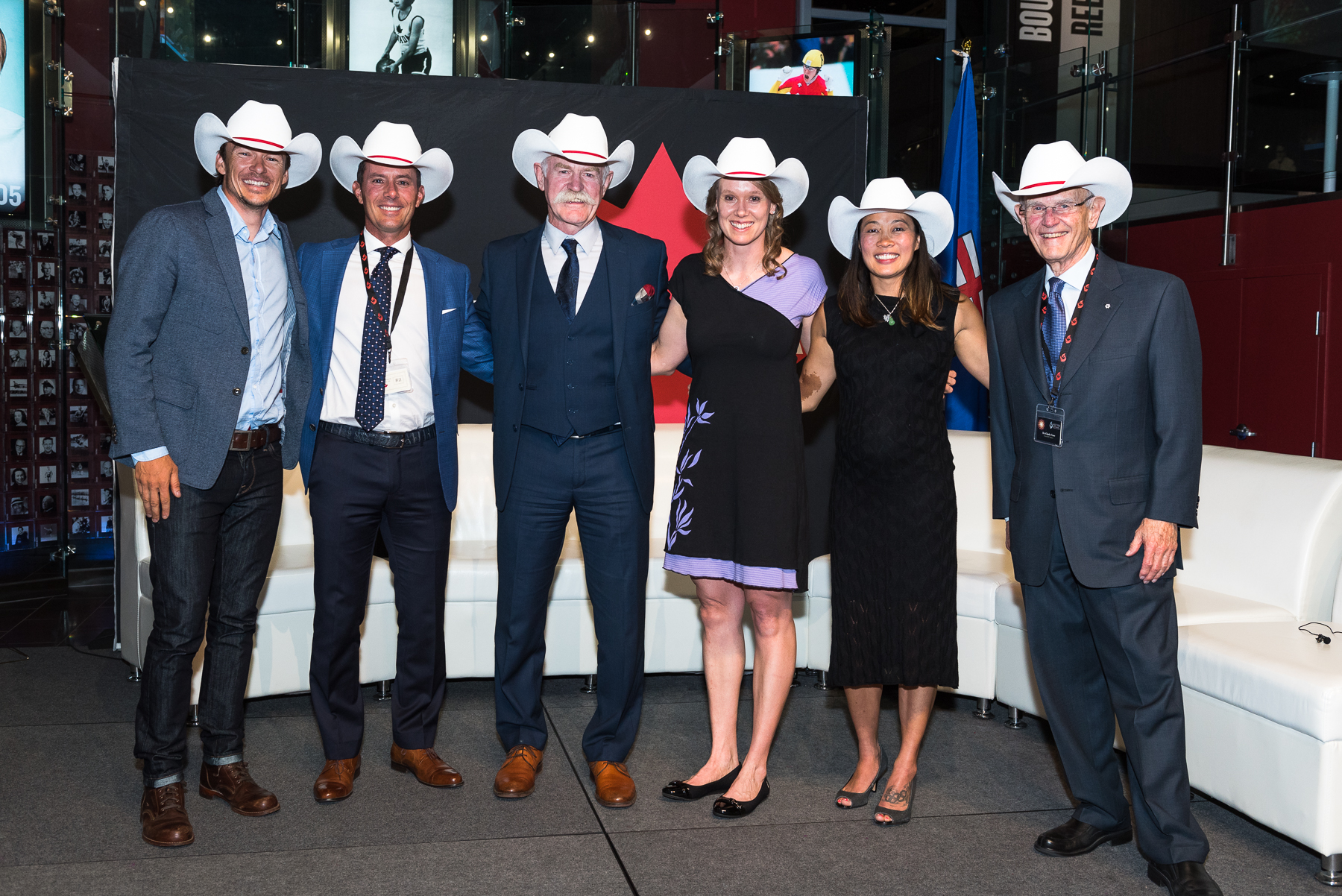 2017 #InspireCanada Gala
6/14/2017
Canada's Sports Hall of Fame's Class of 2017
Helps Launch National #InspireCanada Campaign
Calgary, June 14, 2017 – The Class of 2017 inductees were together in Calgary for the first time to launch Canada's Sports Hall of Fame's #InspireCanada campaign, a national social media initiative aimed at inspiring youth across Canada to be active and get involved in sports. The inductees were able to see Canada's national museum for sport for the first time where their legacy will live on for generations to come. The international award-winning facility, located at Canada Olympic Park in Calgary, shares the stories of Canada's greatest sport heroes, houses the largest Olympic and Paralympic collection in Canada, and features over 50 hands-on interactive exhibits including two multisport simulators, wheelchair racing against Chantal Petitclerc, and Shadow boxing with Lennox Lewis.
"We are excited to launch our national #InspireCanada initiative. There is no better way to kick-off our campaign than with the Class of 2017 that features Canada's greatest Aboriginal, National, Olympic and Paralympic sport heroes whose stories and achievements can inspire all Canadians in sport and in life," said Mario Siciliano, President and CEO of Canada's Sports Hall of Fame.
The Class of 2017 inductees includes:
Carol Huynh, two-time Olympic medallist, Wrestling
Cindy Klassen, the most decorated Canadian Winter Olympian in history, Speed Skating
Lanny McDonald, Stanley Cup champion, Ice Hockey
The late, Gaylord Powless, one of Canada's most outstanding Lacrosse players
Mike Weir, the first Canadian to win the Masters, Golf
Simon Whitfield, two-time Olympic medallist, Triathlon
The Edmonton Grads Basketball Team, the best basketball team the world has ever seen
The late, Dr. Robert W. Jackson, founder of the Paralympic Games movement in Canada, Builder
Dr. Charles Tator, Scientist and Neurosurgeon with a profound impact on the world's understanding of concussions, Builder
An exhibit featuring the inductees will open in their honour following their official induction, when they receive the highest sporting honour in Canada, at the 2017 Induction Celebrations on November 9 in Toronto.